The timeless country of Namibia is a land of contrasts. Home to 13 distinct cultural groups still enriched with ancient traditions, Namibia's rich and colorful culture is a result of the fusion of German, European and South African traditions, customs and architecture. Namibia is Africa at its most authentic, beautiful and immense, and it is easy to see why it is fast becoming one of the continent's hottest attractions. 
Dates of Travel: May 10-20, 2017
---
Trip Highlights
WINDHOEK | KULALA | DAMARALAND | NAMIB DESERT | ETOSHA
DISCOVER
Unique wildlife that has adapted to Namibia's harsh desert environment
Sossusvlei's vast sea of red sand dunes
The scenery of the Skeleton Coast, where the dunes and desert meet the Atlantic Ocean
EXPERIENCE
The thrill of tracking black rhino on foot in true wilderness
Luxury accommodations in lodges that embody responsible ecotourism practices
Sleeping under the stars at Little Kulala
LEARN
From world adventurer Richard Bangs as he guides you across Namibia
About the fascinating Himba culture and people
The history of one of the oldest Bushman rock art sites in the world
---
Booking Details
For details and reservations, please contact Lion World Travel at 1-800-387-2706 to speak to one of their Africa specialists, or visit www.lionworldtravel.com.
---
Itinerary
DAY 1 – ARRIVE WINDHOEK
On arrival at Windhoek Airport you will be met by a Lion World Travel Representative and transferred to The Olive Grove Guesthouse, with the remainder of your afternoon at leisure.
Located close to the Windhoek city centre, in a quiet and peaceful area, the Olive Grove Guesthouse is ideal to start your journey through Namibia. This boutique guesthouse combines stylish architecture and comfortable and elegant accommodation.
Enjoy a welcome dinner this evening.
ACCOMMODATION: OLIVE GROVE GUESTHOUSE (D)
———
DAY 2 – WINDHOEK/LITTLE KULALA
This morning you will be transferred back to Windhoek Airport for your light aircraft transfer to Little Kulala, where you will spend two nights.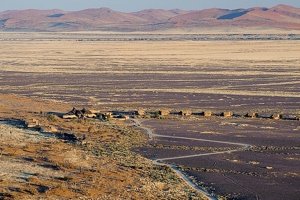 Stark beauty of Little Kulala's setting
Little Kulala is situated in the private 37,000-hectare Kulala Wilderness Reserve – the gateway to Namibia's Sand Sea with its towering dunes and clear starry skies. There are 11 climate-controlled, thatched "kulalas" (which means 'to sleep') that blend into the desert landscape – each with a private plunge pool, a rooftop 'sky bed' for stargazing and both indoor and outdoor showers.
Aside from excursions to the dunes, you will have the opportunity to enjoy the beauty of the Namib as you explore the area on game drives and walks in the Kulala Wilderness Reserve. You will have many chances to see desert-adapted wildlife and plants, from ostriches to bat-eared foxes.
Take in awesome views of the endlessly stretching horizon as you enjoy delectable sundowners. You will also have the opportunity to fall asleep under the stars in a "sky-bed".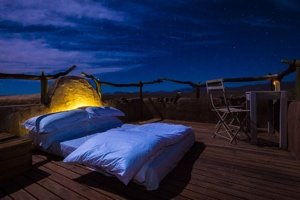 Sleep out under the stars
ACCOMMODATION: LITTLE KULALA (B, L, D)
———
DAY 3 – LITTLE KULALA
The objective of today's activities is to acquaint you with the splendor, solitude and stark beauty of the Namib Desert, with excursions to Sossusvlei and a nature drive and walk providing awe-inspiring views of desert-adapted wildlife and plants.
Sossusvlei is situated within the Namib Desert, the oldest desert in the world, which itself is part of the Namib Naukluft National Park that stretches 250 miles south of Walvis Bay and is sandwiched between the west coast and the escarpment that runs parallel more than 62 miles inland. Its huge dunes and flat valley floors make up the archetypical view of the world famous Namib.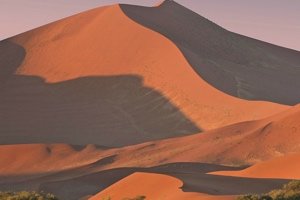 Sand dunes
ACCOMMODATION: LITTLE KULALA (B, L, D)
———
DAY 4 – LITTLE KULALA/DAMARALAND
After breakfast today you will transfer by light aircraft to Damaraland via Swakopmund and Doro Nawas Airstrips.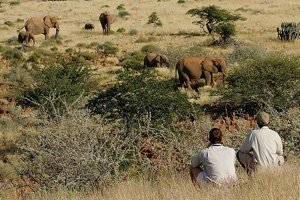 Walking Safari
Weather permitting, the Conception Bay scenic flight takes you over the dunes of the Namib and over Sossusvlei itself for an alternative view from the air, before heading due westwards to Meob Bay on the Skeleton Coast. From here on up the coast there is spectacular desert and Skeleton Coast scenery, where the dunes and the desert meet the Atlantic Ocean. The flight up the coast takes you over the site of the Eduard Bolen shipwreck, past the wreck of the Shaunee, over Sandwich Harbour and its famous lagoon and past the flamingos of Walvis Bay. There are stops en route which may require changing aircraft.
Arrive at Damaraland Camp, where you will spend two nights. The camp is set in the Huab River Valley in one of the best wilderness areas in Namibia. Offering endless views across stark plains, ancient valleys and a stunning ochre-purple mountain backdrop, this uniquely designed eco-friendly camp is an inspirational community partnership.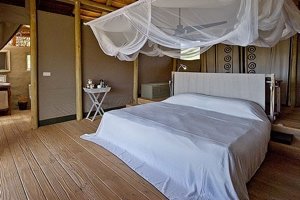 Thatched room at Damaraland Camp
At Damaraland Camp, new technology blends with ancient construction methods to create innovative, eco-friendly luxury in the desert, with the camp's 10 elevated adobe-styled, thatched units. A spacious, thatched living area is complete with a fireplace, bar, and swimming pool. An open campfire and outdoor 'boma' can be enjoyed in the evenings.
ACCOMMODATION: DAMARALAND CAMP (B, L, D)
———
DAY 5 – DAMARALAND
Spend the morning learning more about the people and unique local cultures of the area before a nature drive in the Huab River Valley in search of the unique desert-adapted elephant, gemsbok, kudu and springbok, as well as rare succulent plants.
This afternoon you travel further afield to discover Damaraland's world-famous ancient rock art and geological wonders that dot the area.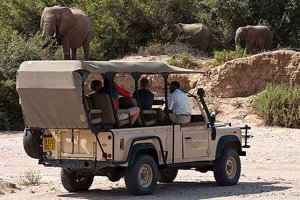 Game drive in Damaraland
ACCOMMODATION: DAMARALAND CAMP (B, L, D)
———
DAY 6 – DAMARALAND/SERRA CAFEMA
Today you will be transferred from Damaraland Camp to the airstrip for your scheduled light aircraft transfer to Doro Nawas Airstrip. On arrival you will be transferred to Serra Cafema Camp where you will spend two nights.
Serra Cafema is one of the most remote camps in southern Africa, its Portuguese name originating from the mountains that dominate the northern skyline.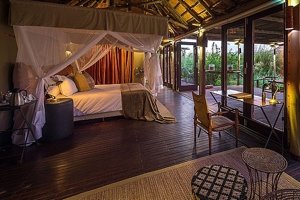 Thatched villa room at Serra Cafema
There are eight riverside wood, canvas and thatched villas on spacious, elevated decks that blend into the surroundings. Each tent has an en-suite bathroom, ceiling fan and mosquito nets. The main area has indoor and outdoor dining areas, sunken lounge, library, curio shop and swimming pool, with views of the Kunene River.
ACCOMMODATION: SERRA CAFEMA (B, L, D)
———
DAY 7 – SERRA CAFEMA
Today you have the opportunity to meet the Himba people and learn about their semi-nomadic, traditional way of life and traditions as they go about their lives in this isolated area.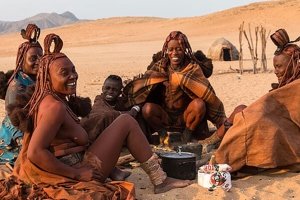 Himba Tribe
This afternoon, (weather permitting) venture by boat on the Kunene River through the lush riverside oases. Crocodiles and water birds seem out of place in this surreal, lunar-like landscape. Or you may choose to take a walk into the remote Marienfluss Mountains in search of a Namaqua chameleon.
ACCOMMODATION: SERRA CAFEMA (B, L, D)
———
DAY 8 – SERRA CAFEMA/ONGAVA TENTED CAMP
After breakfast today you will transfer by light aircraft to Ongava Tented Camp in the Ongava Game Reserve, where you will spend three nights.
Nestled in mountains and plains, Ongava Game Reserve shares a common boundary with Etosha National Park. Ongava is considered one of the finest private game reserves in the region. It features almost all the typical wildlife of the area, with plains game such as springbok, gemsbok, Hartmann's mountain zebra, and eland seen, while Etosha itself has elephant to add to the list. Importantly, Ongava holds one of the largest rhino custodianships in Africa and is one of the few reserves where guests can see both black and white rhino in Namibia.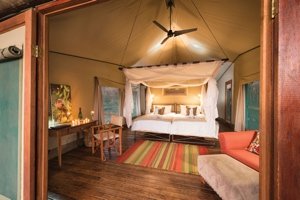 Ongava tented room
Large, comfortable walk-in tents with views across to a prolific waterhole are reminiscent of the classic African safari. All meals are served in the thatched dining area and a pool area offers a close view of the waterhole. Share a drink and the sunset as you gaze out at lion, eland, waterbuck, kudu and other fascinating animals.
ACCOMMODATION: ONGAVA TENTED CAMP (B, L, D)
———
DAY 9 – ONGAVA TENTED CAMP
Ongava is one of the largest private game reserves in Namibia, with over 120 square miles to explore. Experienced guides will take you on open vehicle game drives in Ongava and into neighbouring Etosha National Park to view the amazing variety of life found in this spectacular environment.
Etosha National Park is a protected area in northern Namibia. Lions, black and white rhinos, elephants, giraffe and several stunning species of antelope, including rare black-faced impala, are at home in this reserve.
Lions, elephants, black rhinos and giraffes gather at waterholes such as Halali, Okondeka and the floodlit Okaukuejo. The vast white-green salt flat of the Etosha Pan is a breeding ground for flamingos. Other birdlife includes eagles, hornbills, owls and ostriches. Camel thorn trees provide food and shelter for many of the park's animals.
ACCOMMODATION: ONGAVA TENTED CAMP (B, L, D)
———
DAY 10 – ONGAVA TENTED CAMP
Today's focus is on conservation, starting with a visit to Ongava Research Centre, set up to help protect some of the most rare and endangered species of wild animals on the planet.
Cutting edge research into the genetics of Ongava's rhino population is just one example of how the work being done at Ongava Research Centre is making a difference to conservation not only in Namibia but also throughout Africa.
A highlight today will be tracking and viewing rhino on foot in the company of trained guides.
ACCOMMODATION: ONGAVA TENTED CAMP (B, L, D)
———
DAY 11 – ONGAVA TENTED CAMP/WINDHOEK
Today you bid farewell the spectacularly vast open landscapes, the breathtaking scenery and one of the last true nomadic people on the planet as you fly back to Windhoek where your journey ends. (B)
---
Pricing
Prices are per person in US Dollars, for land arrangements only, based on double occupancy accommodations.
2017
$12,549 per person based on double occupancy
Valid on the following departure date:
May 10
INCLUSIONS:
Air transfers within Namibia
All accommodation and meals as specified in the itinerary
Game activities and excursions as indicated
Transportation in luxury air-conditioned vehicles
Sight-seeing as per itinerary led by an English speaking guide
Entrance fees for sight-seeing as indicated
Laundry at all camps and lodges excluding Olive Grove
Lion World Travel representative Meet and Greet upon arrival
EXCLUSIONS:
Roundtrip international airfare to Johannesburg
Regional flights: Johannesburg/Windhoek/Johannesburg
Items of a personal nature such as drinks and telephone calls, etc.
All other services not mentioned
Gratuities/tips for game rangers, tour guides, and drivers
Costs of obtaining passports and/or visas
Trip Cancellation, Interruption and/or Medical Insurance
BAGGAGE
Options & Add-Ons
VICTORIA FALLS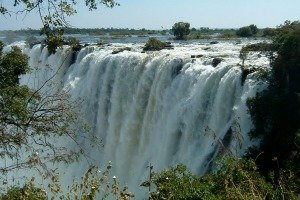 Experience the wonder of Victoria Falls on an extension to your Namibian adventure. You will stay in a stunning lodge to take in the sights and sounds of the "smoke that thunders". Enjoy a tranquil cruise along the Zambezi River during your stay.
Speak to your Lion World Travel Africa Specialist for more information on accommodations and prices.
BOTSWANA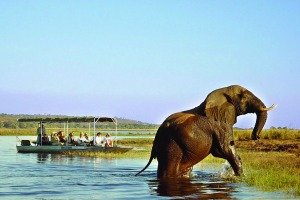 Botswana's Chobe National Park is one of Africa's most sought-after safari destinations. The area is home to the highest density of elephants in Africa and is one of the best birding destinations on the continent. In addition to game drive safaris, cruises on the Chobe River are bound to produce incredible photo opportunities.
Speak to your Lion World Travel Africa Specialist for more information on accommodations and prices.
CAPE TOWN 
Enhance your African experience with a 3 or 4 night stay in Cape Town to allow sufficient time to experience all the city has to offer and to experience the diversity that is Africa.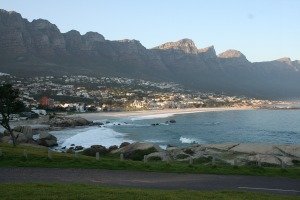 Cape Town is the most popular tourist destination in South Africa due to its good climate, culture and scenic beauty. The city has several well-known natural features that attract tourists, most notably Table Mountain, for panoramic views of the city and Cape Point the dramatic headland at the end of the Cape Peninsula. Many tourists also drive along Chapman's Peak Drive, a scenic mountainous drive with views of the Atlantic Ocean and nearby mountains. A visit to Boulders Beach to see the adorable penguin colony is a favorite amongst visitors. The Cape Winelands offers wine estate tours and wine tastings, and scenic towns with their architectural heritage of Cape Dutch style buildings. The city has several notable cultural and heritage attractions. Robben Island is a poignant experience as visitors see where Nelson Mandela and other political prisoners were imprisoned.   Township tours of the Cape Flats and Khayelitsha provide insight into life in these vibrant communities. The Victoria & Alfred Waterfront is one of the city's most popular shopping venues, with several hundred shops and the Two Oceans Aquarium.
Speak to your Lion World Travel Africa Specialist for more information on accommodations and prices.
TRAVEL INSURANCE
We strongly recommend that you purchase travel insurance. Your Africa Specialist will be able to direct you to information regarding travel insurance.
---
About Your Guide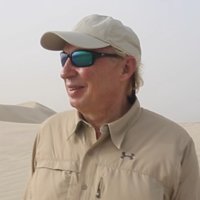 Richard Bangs is an entrepreneur, world adventurer, international river explorer, web pioneer and award-winning author. He has often been called the father of modern adventure travel, having spent decades as an explorer and communicator, pioneering "virtual expeditions" on the internet and leading first descents of 35 rivers around the world, including the Yangtze in China and the Zambezi in Southern Africa.
---
Booking Details
For details and reservations, please contact Lion World Travel at 1-800-387-2706 to speak to one of their Africa specialists, or visit www.lionworldtravel.com.
---